The so-called "dismal science" is a powerful tool for wealth creation, but also for healing broken communities.
I open my car door, sit down, and turn the key. Carefully balancing my coffee, I put my foot on the brake, shift into reverse, and gently press the gas pedal as I pull out of my driveway on my way to work. As I head down South Broadway, I remember a quip my undergraduate economics professor once made: "The economy is like a car engine. Most of us don't understand what's happening under the hood. We just hit the gas and hope it works."
We seldom pause to appreciate the vast ecosystem of buying, selling, labor, and wealth creation that makes up the modern economy. Most of us take its benefits for granted. I simply expect restaurants to have food, water to flow from my faucet, and my car engine to start when I turn the key.
Yet the reason we have everything from SUVs to grande peppermint mochas is a well-functioning economy, which is fundamentally dependent on love, says Tom Nelson, senior pastor of Christ Community Church near Kansas City and author of The Economics of Neighborly Love: Investing in Your Community's Compassion and Capacity.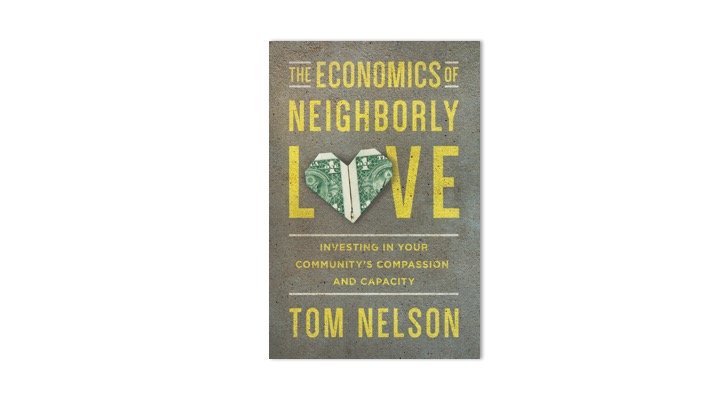 The words "love" and "economics" are used in the same sentence about as much as "toothpaste" and "opera." But Nelson is convinced that if we genuinely want to fulfill Jesus' command to "love your neighbor as yourself," the church needs a renewed focus on our economic life.
A Tool for Leaders
Just mentioning the word "economics" tends to elicit one of three responses: anxiety-inducing memories of college exams peppered with spreadsheets and charts, heated political debates about the role of the government, or glazed-over confusion at bewildering technical terms like "quantitative easing."
But economics need not be intimidating or mysterious. Simply put, economics is the study of the economy. And the economy, as Trinity International University's Greg Forster helpfully defines it, is "the social system through which people organize their work and dispose of its fruits."
The English word economics comes from a Greek word, oikonomia, which means "household stewardship." For Christians interested in wisely stewarding God's good world, economics doesn't have to be the "dismal science," as critics charge. It can instead be a tool in the belt of activists, pastors, and business leaders committed to healing broken communities.
For Nelson, the study of economics became important because of the sting of growing up in rural poverty with six siblings and a deceased father. He recalls "our daily bus rides home from school, [when] our family poverty could not be masked. Schoolmates would ask, 'When are you going to paint your house?' Following our mother's example, we too lied through our teeth, offering up plausible yet deceptive reasons for the glaringly neglected appearance of our home."
Encounters with economic theorists like Milton Friedman, Friedrich Hayek, and Adam Smith would come later. His question as a child was more immediate, more visceral: Does my church care about my economic situation? Or just my soul?
During Nelson's time in seminary, he discovered a pattern of segregation between the worlds of theology and work, the Bible and the economy. And so his questions deepened: Does Christianity have anything to say about the economic world in which we live, work, and play? What is the church's responsibility to the economic well-being of our communities?
"Theologians use words like flourishing and fruitfulness to speak of adding value to the world," writes Nelson. "Economists use words like productivity, opportunity and wealth." As an interpreter between two worlds, Nelson's cry is for renewed partnerships between church and business leaders for the sake of healthy communities.
Biblical Foundation
The Economics of Neighborly Love provides a robust biblical foundation for just such initiatives.
Compassion and Capacity. When a legal expert challenged Jesus with the question, "And who is my neighbor?" he answered with the Parable of the Good Samaritan (Luke 10:25–37). Jews looked down on Samaritans, both religiously and ethnically, yet it was the business person on a trade route to Jericho who stopped and had compassion on the man beaten by robbers. "Loving our neighbor in need involves both Christian compassion and economic capacity," says Nelson. To care for the poor financially requires ample financial resources in the first place.
Creation, Work, and Productivity. God instructed Adam and Eve to "be fruitful and increase in number; fill the earth and subdue it" (Gen. 1:28). The language of fruitfulness suggests not only procreation but productivity as well. We reflect God's image through imitating his productive work in creation (Gen. 1:26–27, 2:15). The call to productivity is less about a paycheck or career success than contribution. "Through work," Nelson writes, "we create abundance out of which we help meet the needs of others."
Poverty and Justice. "If anyone has material possessions and sees a brother or sister in need but has no pity on them, how can the love of God be in that person?" (1 John 3:17). Scripture calls us to care for the economically impoverished, admit our own spiritual poverty, fight economic injustice, and work toward the well-being of the vulnerable (Amos 5:22–24; Matt. 5:3; James 5:4). Nelson believes just economic systems are built on free markets, opportunity, virtue, compassion, generosity, and meaningful work inspired by neighborly love (Prov. 31; Matt. 22:39).
Wealth, Generosity, and Greed. "Give me neither poverty nor riches," says the writer of Proverbs (30:8–9). Wealth should not be demonized, as it is a part of God's good creation (1 Tim. 4:4). Yet neither should wealth be worshiped (Matt. 6:24; Eph. 5:5). Instead, wealth is a gift to be enjoyed and shared with others (1 Tim. 6:17–19). Consumerism is a sin, yet so is sloth. Hard work, wealth creation, and generosity belong together in a healthy economy.
Nelson is hard to pigeonhole as either a conservative or liberal because he stays so close to a biblical social ethic. This book could be embraced by conservatives advocating for free markets and minimal government intervention or by liberals calling for greater equality and economic justice. (It could also be criticized by each side on opposite grounds.)
Trying to navigate the complexity, partisanship, and practicality of economic thought is no small task. Yet The Economics of Neighborly Love succeeds because of its balance and biblical roots. Compassion for the poor is essential, yet so is wealth creation. We're called to give generously to the vulnerable, yet we're also created to work and be productive. Money can be either an object of idolatrous greed or a tool in the hands of the righteous.
Preaching the Principle of Vocation
As I write, the Dow Jones is well over 20,000, and economic growth is strong. But there are signs that the American economy is resting on a shaky foundation.
Nicholas Eberstadt's Men Without Work shows that from 1948–2015 the portion of prime-age men in the workforce dropped from 85.8 to 68.2 percent, a lower rate than in the 1930s, during the Great Depression. Today there are 10 million men ages 25–54 who are either unemployed or have stopped looking for work altogether.
Why should the church care?
In John Stott's 1970s classic Christian Mission in the Modern World, he states, "If we are to love our neighbor as God made him, we must inevitably be concerned for his total welfare, the good of his soul, his body and his community. When any community deteriorates, the blame should be attached where it belongs: not to the community which is going bad but to the church which is failing in its responsibility as salt to stop it from going bad."
As Christmas nears, we must ask ourselves hard questions. Are we content to drop off Christmas gifts for poor children, while ignoring the economic forces that prevent parents from buying their kids Christmas presents in the first place?
Many church leaders might dismiss economics as esoteric or not central to the gospel. But Nelson is right: Our economy needs men and women driven by neighborly love in every sector of society. And if this is God's world, we have a responsibility to care for all of his children's needs—spiritual, social, cultural, and economic.
The book is not perfect. While Nelson does the hard work of wading through the output of famous economists like John Maynard Keynes and Hernando de Soto, he could have included more stories and practical examples to help pastors engaged in this area. (This is one purpose of the Made to Flourish pastors' network that Nelson founded in 2014.)
But The Economics of Neighborly Love will surely encourage more pastors to "take seriously the profound stewardship of nurturing both Christian compassion and economic capacity." This is indeed a part of a gospel that proclaims "God was reconciling the world to himself in Christ," including our work, our cities, and even our economy (2 Cor. 5:19).
Just after World War II, theologian Elton True-blood said, "A Church which seeks to lift our sagging civilization will preach the principle of vocation in season and out of season. The message is that the world is one, secular and sacred, and the chief way to serve the Lord is in our daily work."
Vocation is a summons to service—of both God and neighbor. In stark contrast to a view of work centered on individual choice and personal fulfillment, the church's view of work is unique. Some believe it's also the elixir for our economic woes.
"To live well is to work well," Thomas Aquinas said. The economy—and your neighbor—is depending on you.
This book review first appeared in the December 2017 issue of Christianity Today.